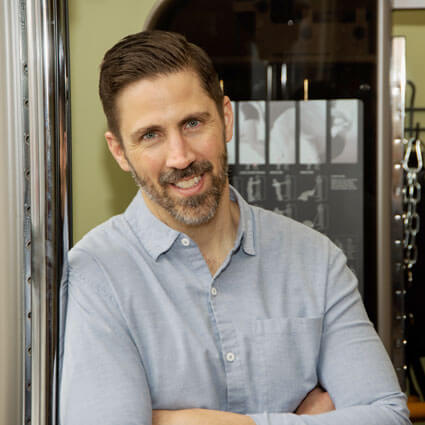 Meet Dr. Michael Pontarelli
Dr Pontarelli brings 20 years of experience and expertise in treating acute and chronic pain and sports related injuries. His passion for sports and movement drives his pursuit of knowledge to help those individuals who share the same dedication to their sport.
With specialties in Chiropratic Neurology, Functional Medicine, Acupuncture, Applied Kinesiology, and an undergraduate degree in Psychology, his approach consists of not only examining the patient's physical health but also working to fully understand a person's goal's, concerns, passions, occupational/social circumstances, and struggles.
His education and experience healthcare and years of athletic participation has allowed him to embrace a patient-centered approach that is tailored to the unique needs of his patients. He opened Windy City Wellness in 2009 as a place for practitioners of various disciplines to work together in the management of a patient's care. He is forever grateful for the opportunity to share his knowledge and experience with those who commit to a partnership for better health and performance.
The Road to Chiropractic
Growing up in the northwest suburbs of Chicago, Dr. Pontarelli led an active childhood participating in just about every sport imaginable (soccer, basketball, baseball, football, gymnastics, swimming, golf, tennis). Despite his level of activity, he struggled with his weight and self-image. His love for competition, sports, and desire to change the status of his health led him to healthcare. He enrolled in St. Louis University as a pre-med/psychology major with an interest in orthopedic medicine. But as Dr. Pontarelli examined what it would be like to practice medicine in the field of orthopedics, he realized he wanted to offer a more hands-on, problem solving, preventative approach to helping patients. After completing his undergraduate studies, he enrolled at Logan Univesity College of Chiropractic in St. Louis.
Commitment to Education
While at Logan, Dr. Pontarelli threw himself into his coursework. He found the study of the human body fascinating and was determined to learn all he could about how the brain and body work together to influence overall health. Dr. Mike completed additional coursework in sports rehabilitation and applied kinesiology which focuses on the integration and utilization of nutrition, manual therapy techniques, and emotional and psychological aspects of health. These foundations in sports rehabilitation and applied kinesiology have helped him provide comprehensive treatment plans for his patients, allowing them to recover quickly and effectively.
He graduated with his Doctor of Chiropractic Degree in 2002 , began working as an associate in 2003 and opened Windy City Wellness in 2009.
Dr. Pontarelli's commitment to education has never waned, and he completed extensive coursework in functional medicine. He knew from experience how important nutrition can be in overall wellness, and functional medicine allowed him to offer patients another level of care.
His pursuit of knowledge continued in the study of Chiropractic Neurology, providing him with expertise in the diagnosis and treatment of neurological dysfunctions including migraines, concussion, balance and vestibular disorders. He has over 1000 hours of education with the Carrick Institute and became a Diplomate of Chiropractic Neurology in 2016.
Away From the Office
With a young daughter, Dr. Pontarelli doesn't have a lot of free time for himself these days. But whatever time he does carve out for himself is spent exercising, running, biking, swimming, hiking, camping, meditating and cooking and in general being competitive. He also dabbles in guitar.
Book an Appointment
Take that first step toward optimal health. Contact us today to begin care.
---
Dr. Michael Pontarelli | (773) 235-7878